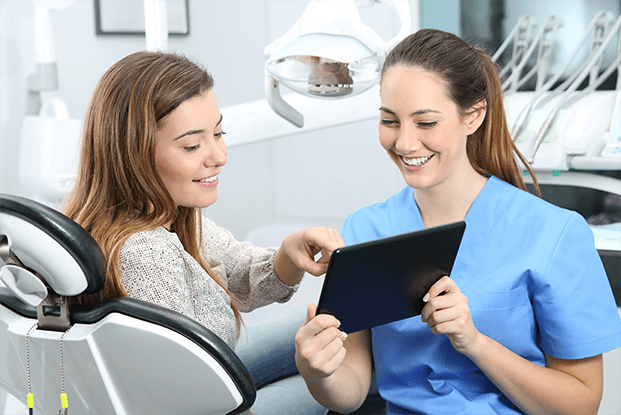 It has long been held by healthcare providers that prevention is better than any cure. At Hampden Dental Care, prevention is one of our primary goals. We take preventive care extremely seriously and view it as a key element of our mission to develop the oral health and promote the overall wellness of our patients.
Preventive dental care is wide-ranging. It includes a variety of procedures provided at our office, including sealants and regular dental cleanings. Sealants help protect vulnerable teeth, while cleanings remove the plaque that leads to tooth decay and gum disease. We also provide mouth guards for athletes and to prevent nighttime teeth grinding.
While we are dedicated to providing excellent preventive care in our office, some of the best preventive measures are taken at home. We recommend following these guidelines in your day-to-day life:
Brush your teeth for at least two minutes twice every day. Use a soft-bristled brush with a small head. Brush in gentle, circular motions rather than back-and-forth. Check the ingredients of your toothpaste to ensure you are using an effective, safe product.
Floss every day. It is best to floss at the end of the day, before bed. Use about 18 inches of floss wound between your middle fingers. Use back-and-forth motions rather than up-and-down to avoid hurting your gums.
Maintain a balanced, healthy diet. What you eat has a huge influence on oral health. Limit foods and drinks with high sugar or acid content, as these contribute more directly to tooth decay. If you can't brush your teeth after a meal, rinse with water to limit leftover food particles that contribute to plaque formation.
Dr. David Edlund would be happy to provide customized recommendations based on your specific situation. To talk about how you can best care for your smile or to schedule your own consultation, please call our office today at 303-586-4034. Our dentist in Lakewood, Colorado, looks forward to meeting you!